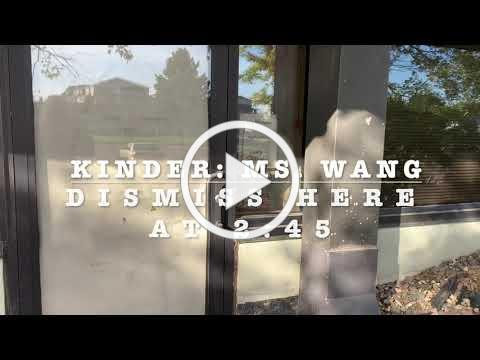 K-2:45 pm
1st-2:55 pm
2nd-3:05 pm
3rd-3:10 pm
Doors are marked by grade level and students in that specific grade level will exit through the designated door., staff members must send a message for your student to be released.
For Kindergarten students, please check in with designated GVA staff who will message for your student and direct you to the classroom door.
Please walk up to the doorway and check in with GVA staff, provide full name, grade level to staff members.
For 1st through 3rd GVA staff members will message your students' classrooms.
If you are picking up more than one student you must check in to each grade level door and provide student's names at each designated grade level doorway.
Thank you for your patience as we make our dismissal process more efficient.
_____________________________________________________________________________________
Cambio con K-3 East despido del edificio
Todas las familias deben estacionar en el estacionamiento y subir a las puertas designadas para el despido.
K-2:45 pm
1st-2:55 pm
2nd-3:05 pm
3rd-3:10 pm
Las puertas están marcadas por el nivel de grado y los estudiantes en ese nivel de grado específico saldrán a través de la puerta designada., los miembros del personal deben enviar un mensaje para que su estudiante sea liberado.
Para los estudiantes de Kindergarten, por favor, consulte con el personal designado de GVA que le enviará un mensaje para su estudiante y lo dirigirá a la puerta del salón de clases.
Por favor, camine hasta la puerta y haga el check-in con el personal de GVA, proporcione el nombre completo, el nivel de grado a los miembros del personal.
Para el 1er al 3er personal de GVA los miembros del personal enviarán mensajes a las aulas de sus estudiantes.
Si está recogiendo a más de un estudiante, debe registrarse en la puerta de cada nivel de grado y proporcionar los nombres de los estudiantes en cada puerta de nivel de grado designada.
Gracias por su paciencia, ya que hacemos que nuestro proceso de despido sea más eficiente.